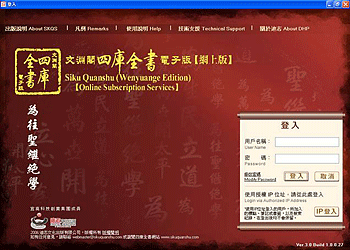 Five thousand years of Chinese Civilization
Siku Quanshu Online is undisputed as the single largest collection of literary works in the world. Compiled by edict of China's Emperor Qianlong during the period from 1773 – 1782 its title translates to Complete Library in Four Branches of Literature. True to its name it includes 3,460 works with a total of more than 36,000 volumes.
In the course of the original compilation large numbers of rare books and manuscripts were collected and preserved. Siku Quanshu opens the door to five thousand years of Chinese civilization including history, geography, politics, economics, science, technology, philosophy and so much more.
A gigantic electronic database adopted by international institutions, Chinese studies organizations and university libraries.
Recognized for its authenticity
SKQS is an important tool for East Asian Studies throughout the world. The development of the Wenyuange Edition engaged hundreds of editors from Beijing, Shanghai, Taiwan and Hong Kong. Celebrities, experts and scholars who were invited to add to this project include Professor Wang Yuanhua, Ren Jiyu, Hsieh Ching-Chung and Joao Tung-i.
Advanced features and interface make all types of research more convenient.
The advanced electronic features of Siku Quanshu (Wenyuange Edition) Version 3.0 extend the full-text retrieval and full-image browsing of an already renowned database to new levels of search and presentation capabilities.
Many entries are, or will be, classified for convenient search of specific research topics or study interests. Examples are:

Categories of ancient Chinese works classifications
Chinese Medicine,
Biographic names
Geographic Names
Arts

Additional Dictionaries
SKQS allows Correlated Search which allows users to find closely related terms for more inclusive results when search criteria include interchangeable or related characters such as Traditional-Simplified, or Chinese-Japanese character sets
Online Subscription Service 3.0
↑ to top
Access Siku Quanshu Online anytime, anywhere via the internet and avoid hosting, maintenance and account management for the SKQS database.
Hosted at the data center of the publisher or East View Information Services.
IP range lock controls user access.
Login access set up based on requests of subscriber institution.
SKQS provides administrative accounts for detailed usage information such as usage time, keywords searched and dictionaries used.
Awards and Recognition
↑ to top
Outstanding Publishing Concept Award of Year 1999 Hong Kong Print Awards
Multimedia Publishing (Educational & Informational Purpose) Champion of Year 1999 Hong Kong Print Awards
Packaging Material Printing (Card Box) Merit of Year 1999 Hong Kong Print Awards
Prix Mobius International (8 Edition), France
Des Multimedias, La Coupe De Chine, Commission Chinoise De Preselection Au Concours Du
The National Prize of the 1st National E-Publication Awards in 2000 (PRC)
SKQS is published by...
↑ to top
SKQS is published by Digital Heritage Publishing Ltd, represented by East View Information Services, Inc.
Free Trial Access
↑ to top
To arrange for trial access to Siku Quanshu you can fill in the Trial Access form or contact East View at info@eastview.com.